---
Couple in Media on Valentine's Day 2020
---
Working in the journalism field is not a 9 to 5 job. It is the definition of 'being married to your job'. Like being in a relationship, you must be committed to make things work. There are stories of struggle, but there are also stories of hope and success. Despite the demands of their work, the best stories include about finding love in media.
Roger and Chello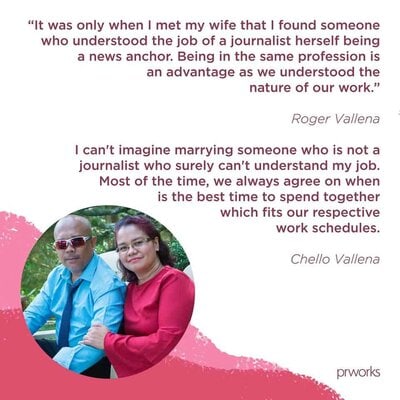 Roger and Chello Vallena are both media practitioners who have been married for 25 years now. Roger is the News Editor of SuperBalita Cebu while Chello is the Production Head of GMA Network Cebu.
"When I was still single, I had difficulty sustaining longer relationships because of the demand of media work. I spent longer time in the newsroom being a deskman and a reporter at the same time. Most often, scheduled dates were cancelled due to work related reasons that led to misunderstanding and eventual break up," said Roger Vallena.
"It was only when I met my wife that I found someone who understood the job of a journalist, herself being a news anchor. Being in the same profession is an advantage as we understand the nature of our work," he added.
For the couple, sharing the same profession made things less complicated.
"I can't imagine marrying someone who is not a journalist who surely can't understand my job. Most of the time, we always agree on when is the best time to spend together which fits our respective work schedules," said Chello Vallena.
Joseph and Mich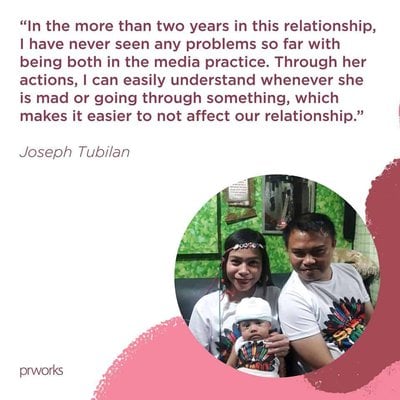 Joseph Tubilan and Mich Dialogo, both media anchors, have been together for more than two years now. They recently had their first baby and are happier than ever.
Like Roger and Chello Vallena, having a common ground made understanding between the two easier. "In the more than two years in this relationship, I have never seen any problems so far with being both in the media practice," said Joseph Tubilan.
"Through her actions, I can easily understand whenever she is mad or going through something, which makes it easier to not affect our relationship," he added.
Gaylord and Mae
Gaylord Tingzon and Mae Godino meanwhile are bloggers. They share a passion for writing and sharing stories. They are also both real estate agents.
"It (being both bloggers) makes our relationship stronger as we get the chance to bond as a couple by covering the same events, presscons, product launches, etc.," said Tingzon.
"It feels like going on work dates every time we attend such events," Godino said.
This Valentine's Day, let's celebrate and be inspired by the beauty of love and understanding. Despite leading busy lives, there is always room for compromise and making time for your family, partner, and friends.
Happy Valentine's Day!
---
"Being in the same profession is an advantage as we understand the nature of our work." Roger Vallena

---
See us in Facebook
---
"When dealing with people, let us remember we are not dealing with creatures of logic. We are dealing with creatures of emotion." Dale Carnegie
---
We love our media friends!