Uplifting Lives through Public Relations
It all began decades before PRWorks became a corporation doing public relations or PR in the Philippines. As the country moved towards business as usual in the years after EDSA uprising in 1986, Emmanuel 'Anol' Mongaya and Doris Isubal-Mongaya decided to pursue the vision of uplifting lives.
Spins and propaganda, however, looked dubious for such an advocacy. Anol first followed his father's footsteps — he is the eldest son of Cebu's Doroy Mongaya, the editor-in-chief of Cebu Daily Times during the 70s — and pursued a career as a journalist. Doris went into pro-women NGO work and as a community organizer for the National HousingAuthority (NHA) before setting up different businesses.
However, the couple soon found themselves into public relations.
Why public relations or PR?
"It fell on our laps," said Doris as she recalled 1996. That's when they responded to respected literary writer Krip Yuson. He needed a team in Cebu to assist publicity efforts for the Asia-Pacific Economic Cooperation (APEC).
For many, PR merely meant managing perceptions that help business accelerate growth. Anol and Doris figured that public relations involves advocacy. The best PR campaigns lead to uplifting lives.
Because of excellence in making PR work for clients, PRworks became the preferred public relations agency in the Visayas and Mindanao for local, national, and global clients.
But that's going ahead of the story.
PR mentorship under TeamAsia
The initial journey was shaky. The team developed into PRWorks only in 1999 when TeamAsia — a public relations and events agency operating in Manila, Hong Kong and Singapore — required a partner for its Intel PC Weekend Madness series in Cebu and Davao.
In 2001, PRworks partnered with TeamAsia in organizing the historic Cebu It Summit for the Cebu City government under then Mayor Alvin Garcia. The summit resulted in the formation of the first Philippine ICT council and charted the path for Cebu as an IT and tourism hub.
"The partnership with TeamAsia provided us with a mentor in Monette and the late Mike Hamlin. It also led to the formation of PRworks as a single proprietorship," Doris said.
In 2002, the open reunion concert of the pro-environment band Asin became the highlight of the week-long Cebu Mountain Festival. The event aimed to celebrate the Year of Mountains as declared by the United Nations.
It was also the first major event of PRworks, independent of TeamAsia.
Leading public relations or PR in Vis-Min
"Our first taste of strategic public relations happened in 2004 when the Visayan Electric Company (VECO) engaged us at the behest of then Sun.Star Publishing Inc. president Sonny Garcia," said Doris.
That was the time when PRworks became a corporation on March 23, 2004 with Doris as Founder and CEO.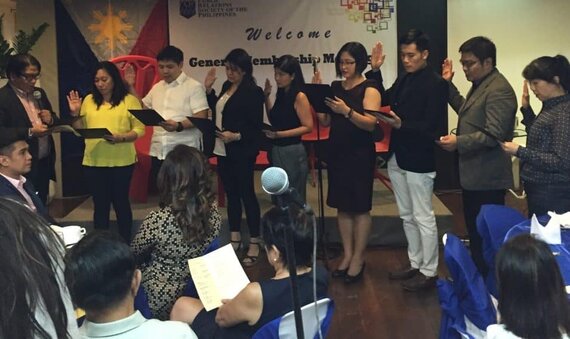 After VECO, the following years saw PRworks Inc. helping the Salcon Power Corporation (SPC), KSPC, and the City of Naga in Cebu province do strategic public relations.
Long-term engagement with clients like Globe Telecom and partnerships with Manila-based PR agencies also made PRworks the leading agency in Visayas and Mindanao.
As these developed, PRworks devoted time and efforts for advocacy.
"We took care of media coverage for World Vision events and activities of the Philippine-Russian Business Assembly. We mobilized journalists and bloggers for the Geeks on a Beach (GOAB) in Boracay, Cebu, Panglao, and Puerto Princesa. We partnered with Balay Mindanaw for relief efforts especially in the aftermath super typhoon Yolanda (known internationally as Haiyan)," Doris pointed out.
Though Anol focused full time on PRworks only in 2010, his success as managing editor of Cebu's local language daily Superbalita — a sister publication of Sun.Star Cebu — made it easier for Doris to build personal relations with journalists in Visayas and Mindanao during the early years.
Awards and Challenges
PRworks marks a milestone at 15 years as a corporation this 2019.
The year has become doubly significant when Doris received two international awards last June 7, 2019 in recognition for her work:
Brand Leadership Award from the World Marketing Congress; and
Woman Leadership Award from the World Women Leadership Congress & Awards.
But for the Mongaya couple, the future also presents complex challenges. Doris cites the following:
The need to meet increasing demands of strategic public relations skills-wise and for authentic media relationships.
The accelerating shift to digital media as modern technology continues to change the way we communicate;
The pressure for truthful, more compelling content as fake news threatens how people perceive both brands and media.
PR Initiatives
Now, Doris notes the following initiatives:
PRWorks has worked with Globe Telecom since 2012 on a novel strategic project known as GMEA or the Globe Media Excellence Awards. This year, GMEA has shifted. It now pursues a digital journey with Vis-Min media. This GMEA move strengthens relations with both mainstream media and the fast-growing number of influencers.
In the past years, PRWorks worked on an internal media relations database and registration app. This project should realize a digital experience for journalists and influencers during PRworks-assisted events.
Click for an update about the app.
While the bigger challenge involves the changing world of media and public relations, PRworks believes that PR work remains managing perceptions, accelerating growth, and uplifting lives.
Start Making PR Work For You