Press Freedom Week 2018 Dinner
What happened to the Globe Media Excellence Awards (GMEA) in 2018? Members of the media community in the Visayas and Mindanao has been asking this for some time.
Based on tradition, the GMEA Final's Night for Visayas was supposed to happen on the Thursday of Press Freedom Week or September 20, 2018.
Instead, Globe Telecom treated Cebu's media community with a Press Freedom dinner at the  new Seda Hotel in Cebu City where the announcement was made.
"The Globe Media Excellence Awards will be bigger next year," said Monday Gonzalez, Globe Telecom's Director for Content Management and Creative Services of Corporate Communications.
PRworks Founder and CEO Doris Isubal-Mongaya said she is awaiting details of GMEA 2019 soon.
PRworks had been assisting Globe Telecom make GMEA happen in the Visayas and Mindanao since it began in 2012. For three years, the awards were limited to the media communities in Cebu and Davao. However, the year 2015 saw the expansion of GMEA.
GMEA became both Visayas-wide and Mindanao-wide. The prestigious awards began accepting entries from media communities in other cities in the Visayas like Iloilo and Bacolod as well as other cities in Mindanao like Cagayan de Oro, General Santos, and Zamboanga.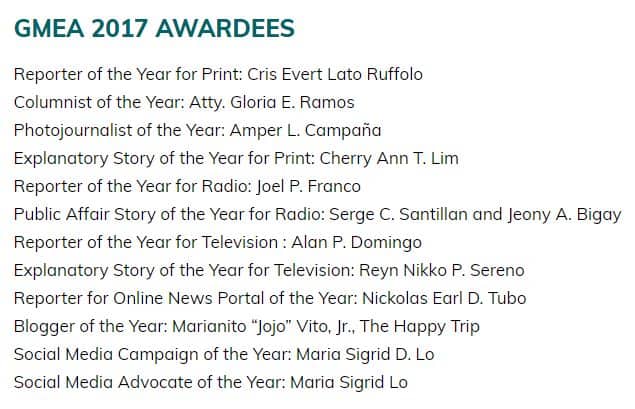 Start making PR work.
Manage Perceptions. Accelerate Growth. Uplift Lives.
Talk to us.