Helping make PR work
(The Covid-19 pandemic update)
A lot happened to public relations in the Philippines some eight years since we first wrote this article in 2012 for PRWorksPH.com. More so when the Covid-19 pandemic spread worldwide early 2020.
The New Normal hastened digitalization, changed the media landscape, and transformed how the PRWorks team do public relations work.
This updated post explores the new trends for public relations in central and southern Philippines this 2020. PRWorks Inc. founder and CEO Doris Isubal-Mongaya has been in active in the Visayas and Mindanao for over 20 years. Founded in 2004, PRWorks Inc. is one of the top PR firms in the Philippines.
Digital Shift
Many thought the decision of Cebu Daily News (CDN) to fold up its print version and go fully digital last year marked the beginning of the end of print media south of the Philippine capital, Manila.
The process hastened with the Covid-19 pandemic. Sun.Star stopped its print operations in Cagayan de Oro and shifted to full digital with the Covid crisis. In Davao City, the Mindanao Daily Mirror likewise went fully digital.
Other community newspapers in the Visayas and Mindanao strengthened their online offers. The websites can now be accessed via mobile and social media channels especially Facebook. Sun.Star, for instance, has Newsbits Tonight, both English and Bisaya video news online. The Freeman, on the other hand, has persevered on its online forum of news makers.
Bisaya tabloids
Unlike the Cebu Daily News, both Sun.Star and The Freeman had long invested in the Bisaya tabloids. Sun.Star publisher Sonny Garcia and Editor-in-Chief Pachico A. Seares published the first Cebuano-language daily in 1994 that primarily catered to the B-C-D market in Cebu and neighboring provinces. The Freeman, Sun.Star's main competitor in Cebu at the time, countered with the emergence of Banat News. Both Cebuano-language dailies grew fast and in a few years have overtaken the circulation of its sister publications.
Industry insiders attribute this rapid growth to the tabloid format, the use of the local language, and cheaper cost for readers. The Cebuano dailies became the print medium to reach out to the grassroots market. Moreover, both Sun.Star Superbalita and The Freeman's Banat News benefit from the online services being dished out.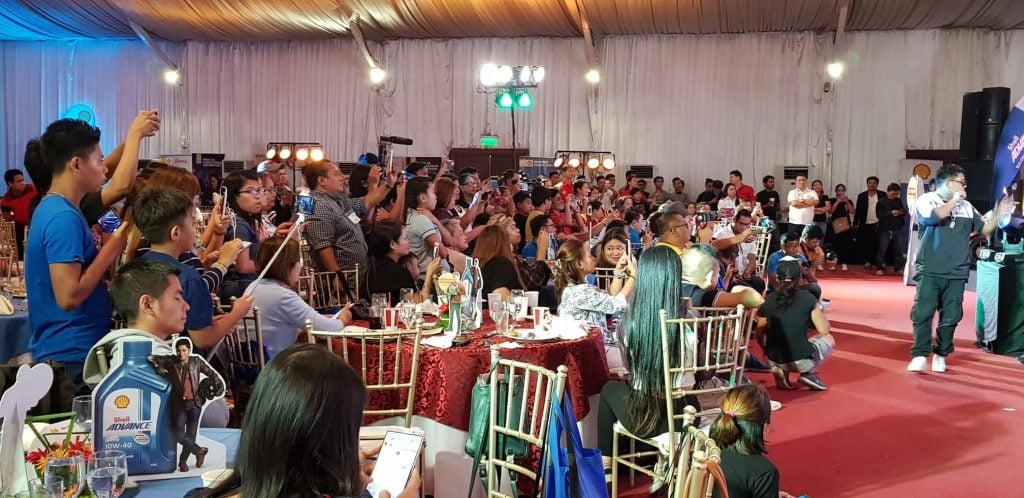 During an event of Shell Philippines in Metro Cebu with actor Coco Martin as special guest last year, some 40 bloggers and influencers covered.
Rise and shake up of influencers
The above photo shows some 40 bloggers and influencers attending a Metro Cebu event of Shell in mid 2019 featuring the popular "Ang Probinsyano" actor Coco Martin. Some eight years before, gathering 15-20 Cebu-based bloggers would be a struggle.
They include online reporters of the existing newspapers as well as journalists from the purely online news outlets. Aside from CDN Digital, there is also the emergence of purely all news websites like iNews.ph and MetroCebu.News.
Bloggers, meanwhile, primarily maintain blogs. Vloggers do videos in their Youtube channels or other video platform. But influencers could also have wield influence in various social media platforms like Facebook, Twitter, or Instagram.
According to influencermarketinghub.com, an influencer "is an individual who has the power to affect purchase decisions of others because of his/her authority, knowledge, position or relationship with his/her audience." He is "an individual who has a following in a particular niche, which they actively engage with. The size of the following depends on the size of the niche."
Basically, influencers can be classified as:
Celebrities
Industry experts and thought leaders
Bloggers and content creators
Micro-influencers
However, the rapid rise of influencers have created skills and ethical problems in some. The lack of skills, for instance, can be seen in those who just post press releases in toto. This can be remedied by trainings for those who plan to upgrade. But more insidious is the existence of influencers who place more importance to their own benefits than delivering quality service. More agencies, and brands, have identified and will tackle this in 2020.
However, we note the rise of micro influencers active in brand communities populated by fans. Brands will definitely benefit more from these kind of micro influencers in the Philippines.
Content is king
Bill Gates predicted that "content is king" way back in 1996 as the future of the Internet. That was some 24 years ago. Today, the concept rings true, even broadened.
For most, creating content is primarily for digital platforms. But PRWorks consider as content writing for print publications. Today, the press release we write and send to publications get published in the printed newspaper along with the paper's digital assets.
"We also seed to bloggers and influencers," said Mongaya.
Moreover, PRWorks now look at 2020 pursuing its own content marketing strategy starting with the "Eco-Friendly Sinulog 2020" campaign, she pointed out. As the pandemic extended, PRWorks has embarked on pushing thought-provoking contents like "Post-Lockdown Perspectives" and "VisMin Speaks."
---
Basically, content for the PRWorks brand not only helps answer the different questions raised by the brand, our campaigns, and by our different clients. When we do that, we expand our customer base while establishing thought leadership in the market. PRWorks emerges as a stronger brand in the eyes of our stakeholders.
This way, PRWorks competes with the top PR agencies in Manila.
Focus on emotions
What makes content connect with your audience? The data used? The logical presentation of facts? Or the emotional association your audience finds in your content?
Marketers, for the longest time, had been using emotional triggers to hook their target audience to click or tap, like, comment, and share. The emotional connection and impact make for viral advertisements and stories.
The same triggers should also work public relations people who do content. The stories told in various platforms should sway people based on the emotions conveyed.
Think about that moment before you hit the share button. Something made you laugh or cry. Or the story might have made you gasp or cringe. The content hit you so strongly that you immediately wanted to pass it along to others.
Yes, the way content makes us feel is often what prompts us to hit the share button. And that's why it's such an important element of viral content. Expect more public relations personnel to focus on emotions in their narratives this year.
Agency partnerships
The wide gray area between public relations and marketing have made it more complex for PR agencies that need to prove their ability to deliver diversified services that go beyond traditional communications. For instance, PRWorks now has a working relationship with the Cebu-based Happy Garaje of award-winner artist Mark Deutsch. This unique startup of artists made its mark in unique international and local branding designs.
The agency likewise explored strategic partnerships with tech-related startups like cebutechblogger.com of Bert Padilla vis-a-vis this website and StartTechUp of Baptiste Laroux that helped us develop the Sinulog 2018 and Sinulog 2019 festival app. Expect this trend to further intensify this 2020.
---
More about the Sinulog 2019 app
---
Fintech firm supports Sinulog 2019 app
---
Measurement of success
Many have been content with just looking at how posts are faring in terms of the number of views. Then many tap their shoulders for spikes and call these success. These "feel good" data, however, would not be enough today. PR professionals should measure:
How a PR campaign helps achieve business goals?
How a campaign message is received and by who?
To be able to adjust the communication and optimize impact.
The year 2020 should see more businesses, not just public relations companies, requiring measurements of digital output and how the real-time analytics are being acted on.
Nevertheless, PR professionals should realize. Technology, even artificial intelligence, cannot replace human analysis of the objective and subjective situation. The PR professional who painstakingly continues to build deep relationships succeeds.
---
A look at 2019 — Doris during the Public Relations Society of the Philippines on October 24, 2019
---
Read Part C  of the original article back in 2012. Back
---
Learn more about PRworks:
---
Related articles
What is public relations?
PR, or PUBLIC RELATIONS, is more than seeding press releases and getting these published. PR is not just about getting your message across. It is about establishing good relationships with people affected and concerned about what we do. It is about creating a good image. https://prworksph.com/public-relations/
Why do Public Relations?
Public Relations involves managing perceptions. It helps how people, especially one's customers perceive you positively. PR increases trust in one's brand. PR enhances credibility and reputation.
Is public relations only for brands or politicians?
Public relations is not just for big corporations or politicians, as is usually supposed. All sectors and actors from small companies, community organizations, religious groups, advocacy efforts, to personalities can benefit from good public relations. It works for you.